| | |
| --- | --- |
| | Customer Service |
The Pit Crew is standing by to help with any questions you may have about the web site.

This page contains information about our merchandise, ordering, shipping, returns and company policies.

Should you have further questions, please contact the pit crew.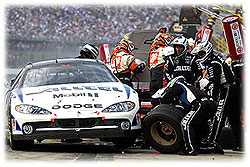 HOW TO PLACE AN ORDER WITH US

1: Order online via our secure server (Our customer friendly shopping cart!)

We use HLS (High Level Security) within our site to protect you the consumer during your Shopping Cart purchases. We respect your privacy and no information will ever be given to anyone else.

2: If you do not wish to order through our secure online shopping cart, simply call us at 216-571-3684.

If you get our automated voicemail system, please leave your name and number and we will call you back shortly.

We are located at
3898 Tyndall Road Suite #3
University Hts, Ohio 44118

Our Shipping Policy
Auto Racing Alley ships all in stock orders within 72 hours. If your item is out of stock, we will ship within 7 to 10 days. If an item is no longer available we will notify you via e-mail.

Secure Orders using our customer friendly shopping cart
All on-line orders placed with Auto Racing Alley are transmitted via secure SSL. We accept Visa, Mastercard, Discover and American Express. If you pay us by sending a money order or personal check, please note that we cannot ship until we have received good funds. Please make checks or money orders
payable to:

Auto Racing Alley
3898 Tyndall Rd. Suite 3
University Hts. Ohio. 44118

Return Policy
Auto Racing Alley has a 14 day money back guarantee. Merchandise must be returned to Auto Racing Alley via prepaid UPS or regular mail. Returned shipping and initial shipping charges are at the expense of the customer. We must be notified within 7 days if you receive damaged merchandise or discrepancies in your order. Any return must be authorized by Customer Service (the Pit Crew) with a written authorization number prior to shipment. Your original invoice and return authorization must accompany all returns.
Return items should be sent to:

Auto Racing Alley
3898 Tyndall Rd. Suite 3
University Hts. Ohio. 44118

Merchandise Availability
Limited quantities and previous offers of these items may cause some or all of these items to be sold out at time of order placement. Partial orders will be shipped in the event of out-of-stock items. You will be advised on your original invoice or by a customer service representative of items on backorders or no longer in stock. When backordered items are shipped, there is no additional freight charge. We cannot guarantee that all backorders will be shipped. Your credit card will only be charged for merchandise shipped.

Shipping and Handling



Shipping and Handling Charges

All U.S. Packages Shipped Priority Mail

$20.01 - $70.00 add $6.95
$70.01 - $200.00 add $9.95
$200.01 - $250.00 add $12.45
$250.01 - $300.00 add $14.95
$300.01 - $350.00 add $17.45
$350.01 - $400.00 add $19.95
$400.01 - $499.99 add $22.45
$500.00 and over FREE shipping!
About Us | Contact Us | Request a Catalogue | Contest | Hot Specials | Gift Certificate
Customer Service | NASCAR | MLB | NBA | NHL | College | Indian Motorcycles | NHRA
Classic/Muscle Cars & Trucks | Cart/Indy Car/formula One
© Copyright 2003. Site designed and hosted by Mango Bay Internet
This site is optimized for Netscape 4 and Internet Explorer 5 or higher.
Please download an updated version now.